Request Investor Information Kit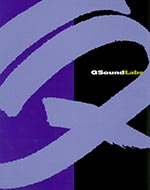 To receive a QSound Labs Investor Information Kit via mail, please fill out and submit the form below or contact QSound Investor Relations at info@qsound.com.
The Investor Information Kit includes a current annual report, our corporate brochure, product brochures as well as recent press releases. These items are also available as pdf downloads on our Investor Resources page.

We respect the right to personal privacy and do not ever disclose client information to other organizations. Every reasonable precaution will be taken to ensure that your comments and contact data are kept confidential and safe from loss or unauthorized access.