Spotlight Feature
ZTE Rolls Out World's First TD-SCDMA TV Handset with
QSound Audio Technology

ZTE Corporation has launched its innovative U728 handset model, a wireless device that is being billed as the mobile industry's first TD-SCDMA TV handset capable of receiving crisp, quality TV signals. Designed as a commercial smartphone, the new U728 TV handset is rich in 3G features for an enhanced multimedia experience and also incorporates QSound's mQSynth audio technology. mQSynth is an advanced, high-performance real-time MIDI synthesizer for mobile devices that plays polyphonic ringtones, game music and interactive sound events.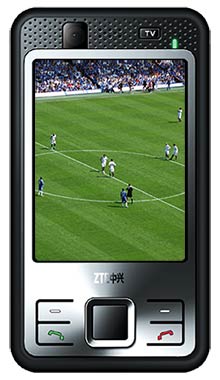 The U728 was released for the Chinese domestic market in time for the Beijing Olympic Games and is a dual-mode device supporting TD-SCDMA and GSM+CMMB (China Mobile Multimedia Broadcasting). It receives TV broadcast signals smoothly at up to 512 Kbps with highly accurate channel reception due to its built-in 360° rotating telescopic UHF antenna. Sporting a 2.8-inch TFT LCD monitor, the U728 has been lauded by industry users for its high quality broadcast images, reliable voice and visual synchronization features.
ZTE's new U728 TV handset offers 3G capabilities such as WAP, VP, MMS, JAVA and video streaming, delivering high-speed multi-media next-generation network services. It also features a high-definition video phone with high-speed Internet browsing.
The launch of the U728 TV handset culminates ZTE's efforts to help promote the rapid development of TD-SCDMA technology in China. ZTE Corporation was the largest provider of 3G network infrastructure and TD-SCDMA handsets for the Beijing Olympics, supplying about 30% of the purchase order placed by China Mobile.