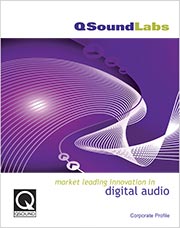 Licensing QSound
Audio Technology
QSound's cutting edge audio technologies include virtual surround sound, positional audio and stereo enhancement for mobile phones, media players, home entertainment systems, PCs, and video game consoles. Our extensive suite of highly sophisticated audio algorithms are known for their ability to significantly enhance audio performance and have been deployed in many consumer electronic products worldwide.
QSound technology is available for licensing in custom packages designed to meet your specific application needs. Our commitment is to deliver efficient and cost effective licensing and development processes to you as our partner.
QSound can provide design guides with detailed algorithm descriptions, object code or software libraries. Regardless of the path you choose, we back it all up with expert integration assistance and verification support.
To explore the possiblities for integrating the world's leading audio enhancement technology in your product and for more information on how to license QSound, please contact our Sales team at:
Corporate Headquarters
Tel: +1 403 291-2492
Fax: +1 403 250-1521
Email: info@qsound.com