sound virtualization engine
The QSurround® Mobile
Competitive Edge
Virtualizes 5.1 decoded
surround material as well
as stereo and mono audio
Small memory footprint
Supports earphones and narrow or wide geometry speaker configurations

QSurround® Mobile
for Mobile Devices and Media Players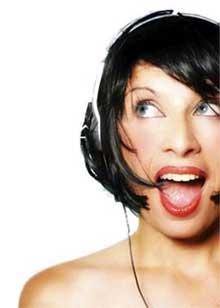 QSurround is a well-established QSound Labs technology that renders multi-channel surround audio with maximum spatial impact over stereo headphones, stereo speakers and multi- speaker surround systems.
QSurround has been implemented in a broad range of consumer entertainment devices including computer sound cards, notebook computers, DVD players, televisions, portable stereos and home theatre systems from manufacturers such as AIWA, Philips, RCA, Sharp, Sanyo and Toshiba.
QSurround®Mobile Features
QSurround Mobile delivers QSurround functionality with a feature set and footprint optimized for mobile platforms, in a variety of flexible standalone and integrated configurations.
QSurround Mobile handles discrete multi-channel surround, with target-specific processing for earphones, narrow and wide geometry (mobile vs docked) speaker systems.
QSurround Mobile maximizes the sonic potential of Mobile TV formats such as DVB-H, T-DMB and ISDB-T as well as downloaded DVD content.
QSurround Mobile Transforms Your Audio Experience
Conceptual illustration of QSurround Mobile surround sound virtualization over headphones. Audio is experienced as coming from virtual speakers outside the head.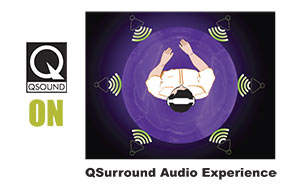 Surround Sound and Mobile Platforms
As the availability of multi-channel surround audio for mobile television broadcast and downloadable movies rapidly increases, the demand for technologies capable of delivering enhanced audio content on mobile devices continues to rise correspondingly. The introduction of new high-capacity network technologies and new stereo-compatible multi-channel surround formats for digital networks will only accelerate this trend.
Yet, mobile devices receiving this newly available multi-channel content are typically limited by their very nature, to two-channel output. To benefit from multi-channel audio, these devices must decode the extra channels of information, then "down-mix" those channels using a process known as surround virtualization.
QSurround Mobile offers a reliable, field-proven, compact, low-overhead audio technology for producing two-channel output that retains surround sound spatiality re-encoded in the form of psychoacoustic cues for a rich, immersive mobile audio experience.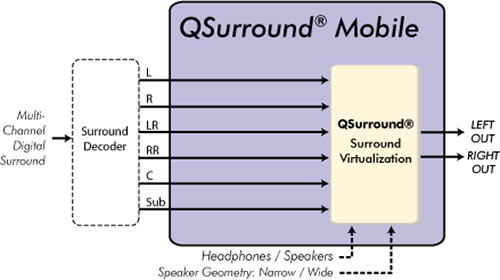 Platforms and Implementations
QSurround Mobile can be implemented at various system levels, e.g. within a driver, as a plug-in, or as a user application.
QSurround Mobile can be provided in the form of object code, or custom ported by QSound Labs to suit your specifications.
QSurround Mobile is optimized for ARM® processors including ARM7™ / ARM9™ / ARM11™ / ARM Cortex™ with ARM Neon™ extensions.