surround virtualization engines
The QSurround®
Competitive Edge
Unparalleled high-quality,
multi-channel surround
virtualization

Patented sound imaging
technology
Industry proven solution
Applicable for traditional 5.1
speakersystems, soundbars,
conventional stereo
speakers and headphones

QSurround®
for Home Audio, PCs and Cars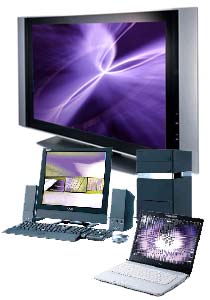 The QSurround family of algorithms renders high-quality, multi-channel virtual surround audio with maximum spatial impact over stereo headphones, stereo speakers and multi-speaker surround systems, creating a powerfully immersive listening experience.
QSurround has been implemented in a wide range of consumer entertainment products including PC sound cards, laptop computers, DVD players, TVs, portable stereos and home theater systems from manufacturers such as AIWA, Philips, RCA, Sharp, Sanyo and Toshiba.
Product Family
The QSurround family of 3D audio virtualizer products consists of:
QSurround HD™, a multi-channel virtualizer specifically designed for playback over stereo speaker systems.
QSurround 5.1™, a multi-channel virtualizer that works with any multi-speaker configuration, whether arranged traditionally or front oriented.
QSurround Headphones™, a multi-channel virtualizer employing unique HRTF algorithms for headphones in conjunction with ambient environment simulation (a virtual room) that provides context for the content.
Optional Audio Enhancement Algorithms
All of these virtualizers can be complemented with the addition of optional bass and high frequency enhancement algorithms, QSizzle and QRumble, as well as our speech enhancement algorithm, QDialog.
QSizzle™An adaptive mid to high-frequency spectral enhancement that restores a natural-sounding sonic punch to highly compressed audio formats like MP3 by selectively adding upper spectrum energy according to the real-time characteristics of the input signal.
QRumble™ The low-frequency counterpart to QSizzle, QRumble also adds energy in a selective fashion, bringing substance and warmth to the low end spectrum without overloading on loud passages.
QDialog™Enhances speech and vocals for music and movie soundtracks, providing improved clarity and intelligibility.

QSurround HD Transforms Ordinary Listening into an Audio Experience
Conceptual illustration of QSurround HD surround sound virtualization over stereo speakers. Audio is experienced as coming from a central virtual soundbar and virtual speakers surrounding the listener.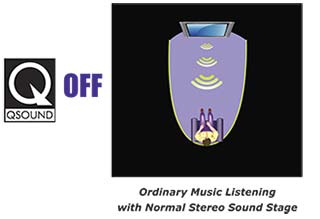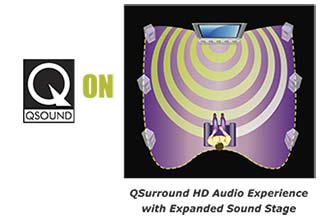 Hardware Partners
AKM
ARM
Motorola
Philips
ST Microelectronics
Tensilica
Texas Instruments
VeriSilicon
For more information about the QSurround product family, please see our OEM Guide to QSurround: QSound Virtual Audio Rendering for Surround Formats.