sound virtualization engine
The QSound
Competitive Edge
Proven track record and
established brand
recognition
Cost effective solution
requires few external
components
Takes un-encoded input
signals
Simple output - no special
equipment required

QXpander® QX2020
Analog Audio Processors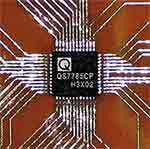 The QXpander® QX2020 is an analog stereo enhancement processor. This device is part of the QX chip family offered by QSound Labs, and uses the patented QXpander technique to produce a spatial or widened stereo image from ordinary left and right channel inputs. QXpander® is a stereo to 3D enhancement process and is a trademark of QSound Labs.
The QX2020 processor has a TTL-compatible QXpander / Bypass control to select between QXpander® enhancement and normal stereo audio. It's audio enhancement is achieved using normal stereo signals and standard audio playback equipment including two ordinary speakers. It creates a stereo image with depth in three dimensions from ordinary left and right input channels.
Stereo Enhancement
In ordinary stereo systems, the stereo image is formed between the left and right speakers, and is confined by the speaker positions (i.e., the "sound stage" is located between the two speakers). The QXpander is designed to form the stereo image beyond the speakers, thus enlarging the "sound stage".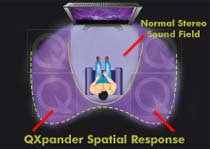 If the center channel is defined as the monaural or common component of the left and right channels, then the graphic to the right represents the spatial response of the QXpander versus the normal image width of stereo in bypass mode.
Normally, the QXpander is used in the preamplifier stage between the stereo source and the amplifier stages used to drive the speakers. The QXpander enhancements can be disabled using the bypass control allowing the unchanged stereo signal to pass through to the amplifier stages.
QSound applications engineers can assist customers in integrating the QX2020 into their application designs.
QX2020 Applications
LCD TVs
Home Theatre
Stereos
Speakers
Computers
Portable Entertainment Devices
Video Game Systems